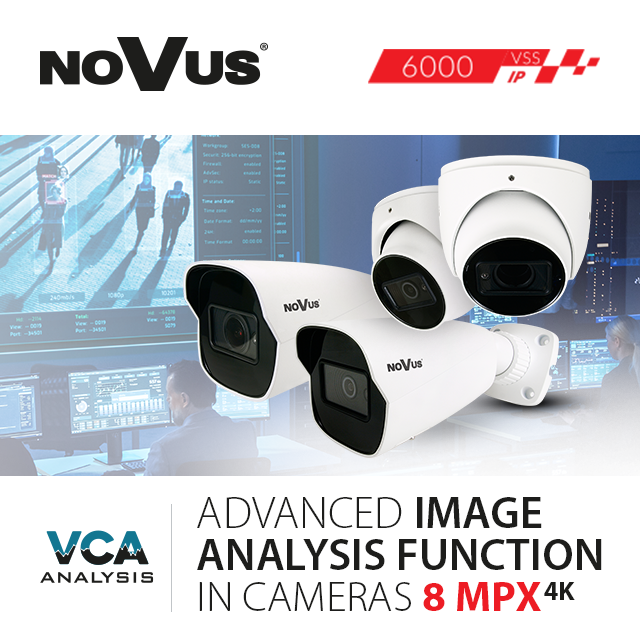 Intelligent CCTV cameras
The original function of CCTV systems, i.e. the monitoring and recording of images from cameras, is being systematically upgraded with newer, more sophisticated algorithms to analyse the content of the images. As a result, the cameras installed in each area can perform a dual role, i.e. surveillance functions and analytical functions.
The innovative INGENIOUS PLUS image analysis technology used in Novus cameras uses - among other things - an algorithm that distinguishes between objects in the camera's field of view, allowing the recognition of a person, a vehicle as well as a bicycle or motorcycle.
Six independent counters provide information on the number of classified and counted objects, as well as the direction in which they are assigned. The categories displayed by the camera counters can be freely set. Counters can be reset automatically after a specified time - hour, day or week, or manually via the camera web interface.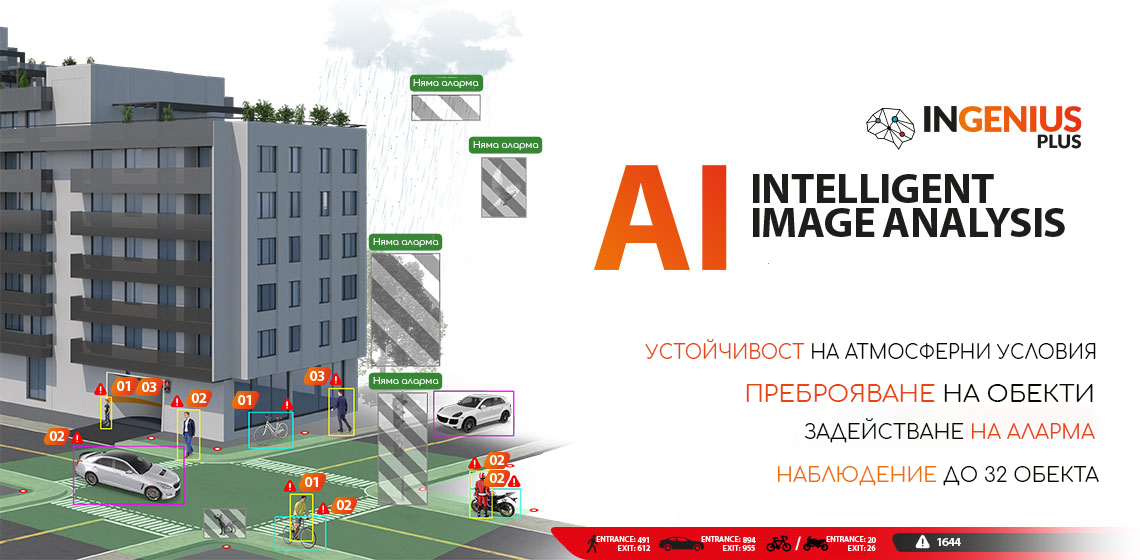 To get help with design and implementation of a
video surveillance system, or request a quote, please,
contact our sales department.
01
CLASSIFICATION OF OBJECTS

Functionality to distinguish the type of object located in the defined area or the object that has crossed the virtual line

02
CLARITY
Frames colours vary depending on the type of object.

03
DETECTION SENSITIVITY
Any defined minimum distance of the object from the designed line or zone that will trigger an alarm.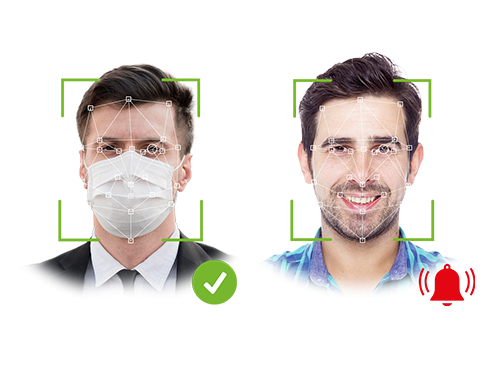 MASK DETECTION FUNCTION
The Deep Learning based image analysis combined with the face detection feature allows detection and alerting of people who have not covered their mouth and nose, the so-called maskless detection feature.
The feature allows a local alarm to be triggered, an email to be sent, a relay to be activated, an event to be sent to the NMS or a push notification to be generated to the mobile app after detecting a maskless person in a specific detection zone.

OBJECTS COUNTING
Function that allows counting objects with recognized shapes (i.e. human, car, two-wheeled vehicle) that have crossed the virtual line. The results from individual cameras can be displayed in real time, as well as collected and visualized in the central software.

MONITORING UP TO 32 OBJECT
Efficiency of the devices and analysis methods used allows for the simultaneous monitoring of up to 32 objects of various types (if a larger number of objects appear in the image, human silhouettes will be recognized first, then cars, and finally single-track vehicles).
RESISTANCE TO ATMOSPHERIC CONDITIONS
High efficiency of work in difficult atmospheric conditions, including rain and snowfall, as well as in the event of unfavourable lighting of the scene at dusk or dawn. The algorithm eliminates false alarms by rejecting all shadows, flares, tree movement etc.

TRIGGERING AN ALARM REACTION
The possibility to create various alarm scenarios, i.e.:pedestrian enters/exits via an entrance reserved for cars only,people in the work area of large-size machines.

Other examples of places where the discovery of human
silhouette can be useful are:
Rail level crossings;

entrance and exits of underground car parks;

places where pedestrians are not allowed to cross the road.
NMS Professional CCTV monitoring and control system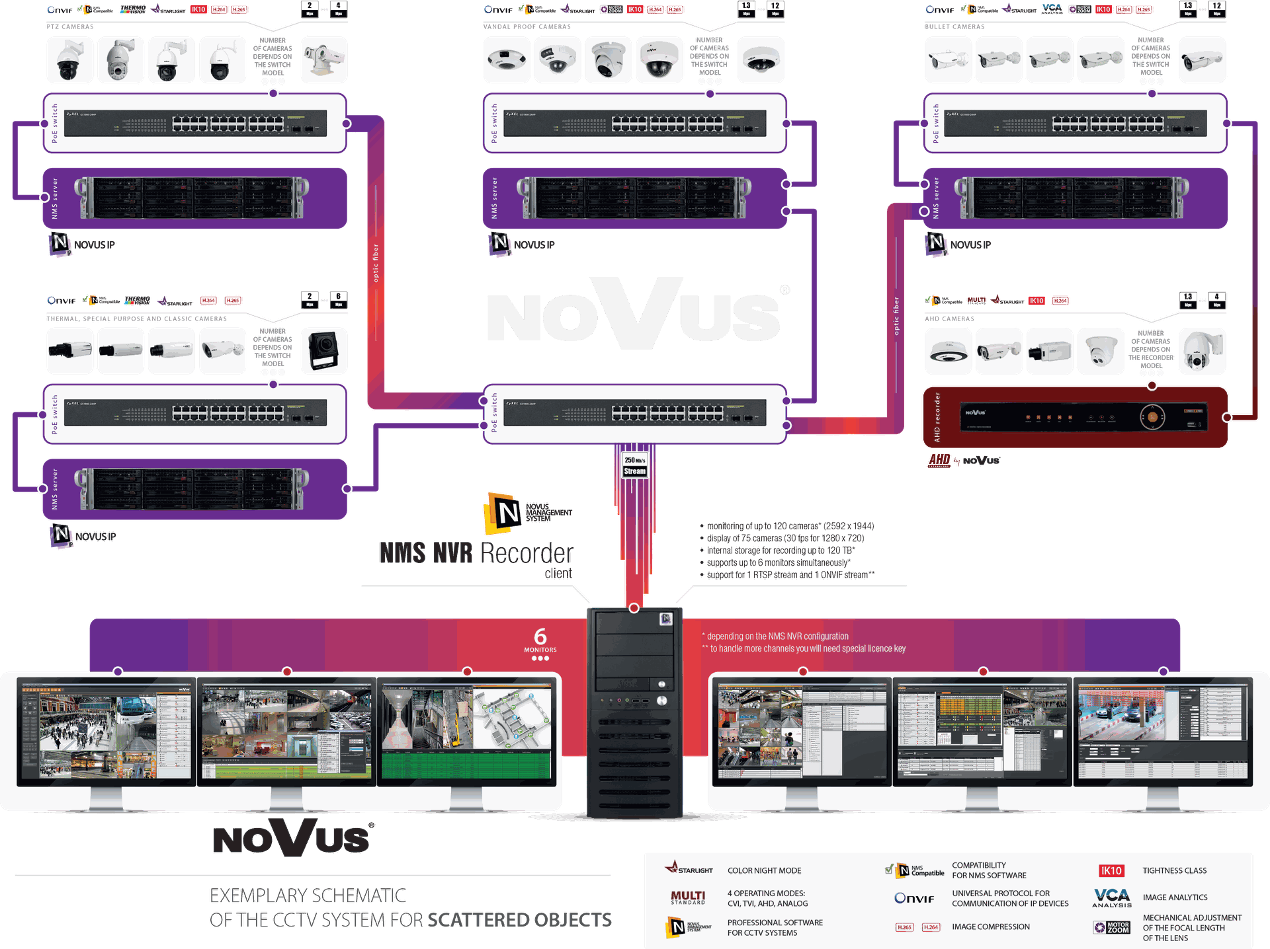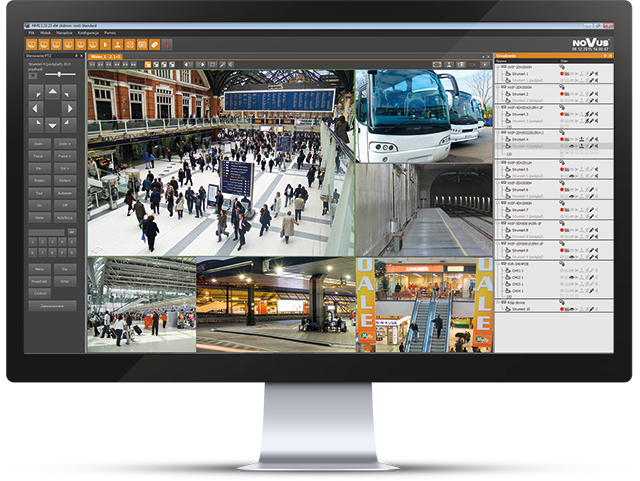 OPERATOR'S VIEW

The NMS user view interface is clear and easy to use. It was designed so that the operator could freely arrange windows so that he can customize the program to suit his own needs. The easy and intuitive interface of the program allows you to quickly configure the display of streams by dragging one of them to any video window. The software has a list of added devices thanks to which we have access to them at any time. An important element is the ability to operate the operator's view on 6 monitors at the maximum division of 6x6, which allows us to freely display the streams.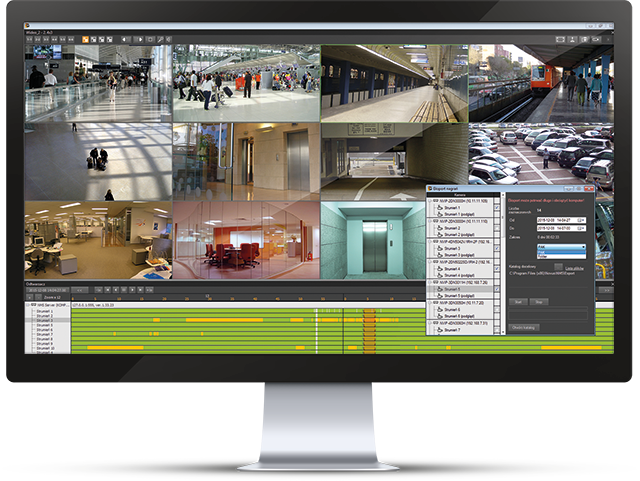 PLAYBACKAND RECORD ARCHIVING

An important option is the playback function of recordings. The software is equipped with a player so that we can easily find the registered material. The integrated playback panel gives us the ability to play 25 streams simultaneously. The advanced search module allows us to export recordings by date, exact time, and export recordings from multiple devices simultaneously (export in AVI and PAK format).

MAPS AND EVENTS
The function of maps and events in the application allow for intuitive operation of the CCTV system for a given object. The operator can switch between different layers of the graphical interface on which interactive icons of video surveillance system elements (cameras, alarm outputs etc.) are placed. Thanks to this convenient solution we can easily navigate the object intuitively by selecting the map and stream from the camera and display it in the video window. Additionally, the program has a current events module thanks to which we can filter, according to given criteria, actions occurring on a given object, eg: alarm occurrence, motion detection on the camera, connection status of the device with NMS software etc.

OPERATION OF ALARM EVENTS

The administrator thanks to the function of extensive scenarios has the ability to define the reaction of events to various types of alarms (eg: motion detection, reaction to camera alarm inputs / outputs, image analytics). It is possible to assign a number of elements on a number of occasions and give them specific reactions. Alarm responses can be assigned even to several devices at the same time (eg alarm display from several cameras in full screen). Automatic scenarios help the operator in effective work and reduce his response time to disturbing events. Alarm scenarios are implemented on the basis of schedules. It is possible to create multiple scenarios and link them to a specific date, time of day or specific events. The interactive video window allows you to view the occurring alarm events. The event configuration module together with the I / O panel allow defining the occurrence of alarm events and defining alarm responses.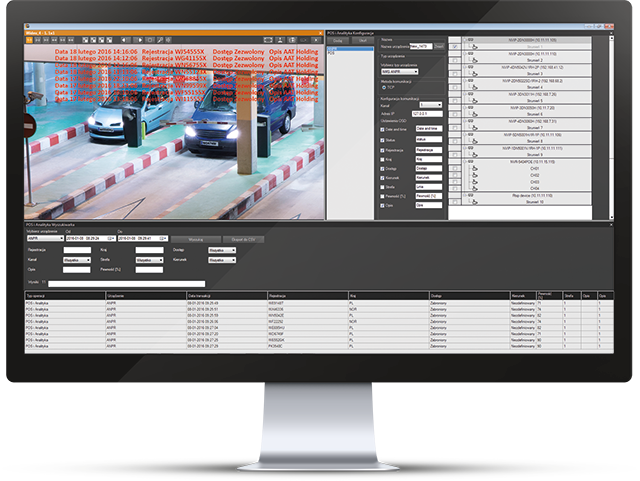 POS INTEGRATION AND NMS ANPR

The software gives us possibilities such as linking devices sending text messages, eg cash registers or ANPR number plate recognition software. Thanks to this, we will obtain information from external devices about transactions made or information about the registration number of a given vehicle, which will be assigned and displayed to the assigned video stream. An additional function of the software is the POS search engine in which we can filter events after time, date or other criteria. The data can also be exported in CSV format. The integration of POS devices (cash registers can be done via TCP / IP or RS232) and the recognition of license plates by means of TCP / IP.

ADMINISTRATOR PANEL

The recorder module has been designed to set recording parameters for streams. Thanks to this, you can allocate any disk space, assign a recording path and define a schedule. It is flexible and allows configuration for each camera separately. The software also has advanced user settings. This is accomplished by a simple configuration module for the permissions of the group. You can define settings for individual groups so as to adapt the monitoring system to the operator working on the site, giving it specific permissions.


PREVIEW ON MOBILE DEVICES the possibility of remote access to view camera streams and recordings from any place and any time / fast and easy application operation.

INTEGRATION WITH HYBRID SYSTEMS the possibility of combining analog systems and AHD systems with IP / managing all devices using a single graphical interface of the NMS application.


BIDIRECTIONAL AUDIO
the possibility of recording / listening live and transmitting audio messages to the camera


CONTROL OF PTZ CAMERAS
the possibility of observing distant places for standard stationary cameras (using rotating cameras) / observation of distant moving objects

SUPPORT FOR COMPRESSIONH.264/H.264+/H.264SH.265/H.265+/H.265S
disk space saving / reduced bandwidth of generated streams / greater detail of the recorded scene

OPERATION WITH THE DCZ KEYPAD
faster operation of the monitoring operator / operating of PTZ cameras and motor-zoom functions

FLEXIBILITY OF APPLICATIONS
3 operating modes: (NMS Server / Client) registration and observation / (NMS Client) only observation / (NMS Server) only registration


ADVANCED IMAGE ANALYTIC
reducing the number of false events thanks to more accurate information / higher probability of detecting an unauthorized reaction by objects occurring in a given scene / keeping marketing statistics / analyzing the number of clients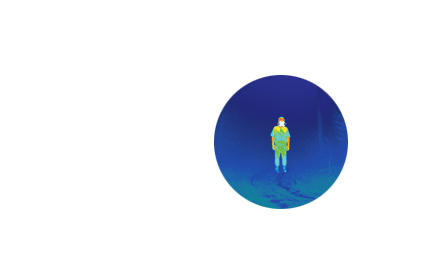 OPERATION OF THERMAL CAMERAS
monitoring of critical points / working in total darkness / quick detection of threats

Why choose us from the many companies selling cameras?


We offer professional video surveillance equipment
We design your system, not just install cameras


We have 30 years of experience and knowledge of how it's done
We offer:


Wide selection of cameras. We have the right model for every case.
An address must be specified for a map to be embedded